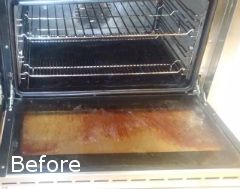 Professional oven cleaning services in Vauxhall, SW8 from Fast Home Cleaning London. We clean single and double ovens, cooker hobs, microwaves and BBQs.
Aren't you tired of the persistent stains from cooking on your oven? You don't have to worry about them because our prestigious professional company has an offer for you which will change the look of your appliance significantly.
We are a provider of efficient oven cleaning services which are among the most wanted ones in Vauxhall, SW8 today. A lot of our clients depend entirely on us and our tireless team of cleaners for the ideal sanitation and disinfection of their ovens. We will gladly help you as well, if you contact us in our head office.
Prices in Vauxhall
Oven Cleaning Services
Single Oven (60cm)

£

45

Double Oven

£

63

Microwave

£

20

Hob Extractor (each)

£

20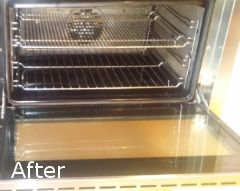 If you want to get rid of the pollution that stop you from cooking your favourite meals, you can make a request for our services. We are expecting your call 7 days per week in Vauxhall, SW8. Our offer for professional oven cleaning will help you save some money and receive a spotless appliance which you can use every day.
Low-cost oven cleaning services like ours which are also so efficient can't be found in any other area of London, except in Vauxhall, SW8. To understand more about our exclusive offers, use our customer support centres.
We would be glad to talk to you about the cleaning services at your disposal and their respective prices. With us you can receive a tailored cleaning plan that would satisfy the needs of your oven. You can be sure that our price packages are affordable for every pocket.
Frequently Asked Questions
Unconditionally. Fast Home Cleaning London is a professional cleaning company with a long-standing experience in this field. We have worked really hard to make a name for ourselves and today when we already did, we are not planning on giving up. We employ only insured individuals who contribute to the quality of our professional cleaning services and their skills and achievements help us win recognition among a larger community of customers. Each housekeeper is trained to a high standard to perform a cleaning session to suit our customer's requirements. We truly care about your home and office! With us, you will experience attention to detail and excellent customer care support.
Fast Home Cleaning London. Each housekeeper is provided with specialised cleaning machines and tools, as well as supplied with super powerful detergents which are preliminarily tested to be safe and hypo-allergenic. If you have some specification for the products which we will use, feel free to let us know. We want you to be comfortable with the supplies we utilise at your property. However, you need to know that our cleaning equipment is classified as environmentally friendly and biodegradable. The best part is that you do not have to pay anything additionally for this equipment.
Your appointment with us is merely a phone call away! Share with us your individual needs and we will provide you with a free quote ahead of booking. We will introduce you to our wide range of professional cleaning services so that you might choose what you would like our housekeepers to do for you. You will help us create a cleaning programme customised to your needs and requirements, and when we arrive at your property, we will follow it. If you want to meet our teams in advance, you can also visit us directly in one of our head offices in Camden Town. Bookings with us are easy, the satisfaction of our work is eternal.
Of course not! We have our own equipment and we will bring it at your home for the cleaning procedure! We provide the tools, the machines and the cleaning products, absolutely free of charges!
We work on the weekends, too, and on national and bank holidays! There is no power in the world that can stop us from providing you with the highest quality of oven cleaning! Choose a day and book a convenient for you appointment and we will do the cleaning in no time!
Usually it takes about one and a half hours to three hours. The timing absolutely depends on the amount of the grease and grime. The dirtier the surfaces – the longer the time for achieving the perfect results! However, our professional cleaners are fast and efficient in their jobs and will do everything to make your oven shine from cleanness, as long as it takes!
We offer the oven cleaning for single and double ovens, microwaves, BBQs, cooker hobs. The techniques and methods are the same, no matter the appliance. We have on our disposal effective cleaning products, which our professionals use carefully and attentively to end up in shining results!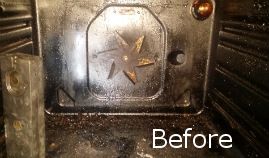 We offer professional cleaning of ovens, no matter of their size or design. The team of professionals we are fortunate to have among our ranks are beyond knowledgeable about the latest cleaning methods appropriate for each type of oven.
They have the necessary training and experience to meet your expectation however high they might be. Our specialist love a good challenge. No matter the condition of your oven, they would do everything within their power to deliver you shiny results.

Give us a chance to prove you that we have the skills to handle any oven cleaning problem in existence.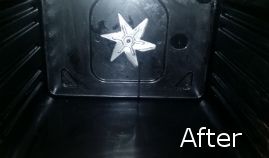 Our oven cleaning includes a wide range of cleaning procedures, carefully applied by our technicians. We would dismantle your oven of its removable parts and bathe them in a potent cleaning solution to completely remove the sticky layers of grease and grime.
This might take some time but we assure you it would all be worth it at the end. We will thoroughly clean every single little part of the interior and exterior of your oven and then polish the surface. Your oven will become sparkling clean within a couple of hours and you will be able to use it immediately after we finish with its cleaning.
We know exactly which products and technologies to use to make your oven thoroughly clean. We depend on our first-class equipment which doesn't contain any toxic or hazardous substances. Our green solutions will make the pollution disappear for good and will also provide you with an oven which smells very nice. Trust the expertise of our qualified technicians and forget about the bad odours and the greasy stains.
Your oven will look as if it has never been used before. We promise you outstanding results. A crew will come at a time and place of your convenience during the week and will leave only after their job is completely done and you are satisfied with the results. We won't take much of your time and we promise to do everything possible not to disturb your peace.
A message from our happy customers
"Your company's technicians restored my oven's initial cleanliness by leaps and bounds. They were punctual and were equipped with the latest, eco-friendly detergents, which really contributed to the exceptional cleaning session. It was such a pleasure working with you! My oven has never worked better since it needs less time to reach its optimal temperature. I look forward to booking your service again." – Bobbie