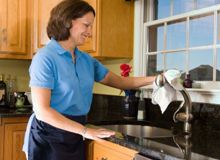 FastHomeCleaning London can provide you guaranteed end of tenancy cleaning services in London, UK. All our cleaning teams are qualified and insured. Book now. When you are about to depart from your rented property because your tenancy agreement is nearing its expiry then, you can definitely consider end of tenancy cleaning services offered by our company. Leaving the property immaculate not only helps you to get the full deposit back but also helps in creating a good impression towards your landlord. We have been operating in this field for quite a few years and with our loads of experience, we guarantee the best of services at affordable rates.
The comprehensive task list prepared by us focuses on the vital aspects of tenancy cleaning services which are professionally carried out by our cleaners. Over the years, we have set high standards in the field perfectly designed for meeting the requirements of estate agents and landlords. The teams of cleaners from our company have been trained in such a manner so that they can offer you with exceptional service and provide you with full value for money. Our endeavour is to make sure that all your requirements are met by our cleaners and you feel satisfied by hiring our cleaning services.
In case, you feel that the service offered by our cleaners wasn't up to the standard, just inform us within twenty four hours and we will carry out the task once more but without any charge. The experienced professionals from our company will do everything to ensure that property you are leaving is left in spic and span condition without any traces of dirt, dust or grime. The best part about hiring our services is that, the cleaners from our company with their vast knowledge and experience consider even the smallest of factors that you, normally will overlook.
Our main priority is to offer our clients with an efficient and reliable service every time they think of us. The quotations and task list prepared by us are aimed towards providing a highly personalized service guaranteed to make you satisfied and happy with our services. If you happen to have a task list of your own then, our cleaners in West Finchley will work according to that so as to satisfy your requirements. The cleaning materials used by our company are absolutely toxic free and harmless. Our attention to detail and the endless endeavour to offer the best of services will make you feel that you have done the right thing by choosing our services for your tenancy cleaning needs.
FAQ
The housekeepers will do a thorough and detailed clean up of the entire property, no matter the number of rooms and their condition. They will usually vacuum, dust, mop, wipe worktops and surfaces. Bathrooms, kitchens and hallways will be thoroughly cleaned. All the general household chores will be done, plus the ones requested from the customer. In short, the end of tenancy cleaning service of our company covers every corner of the property. However, if you require additional specialised service, such as window cleaning, please share with us your requirements.
Our goal is to make each and every one of our customers satisfied with the service they receive. It is why we endeavour to match you with a housekeeper who will meet your requirements and needs. If you are not fully satisfied with the outcome for one reason or another, please make sure to contact us. Our end of tenancy cleaning services come with a 48-hour guarantee. We are ready to send a team to re-clean the areas till all of your needs are met.
Usually, our cleaners use their own cleaning products which are powerful enough to eliminate various stains and other contaminants. What is even more, the products are green-certified and it is safe to use them around small children and domestic pets. For your peace of mind, our end of tenancy cleaning includes everything necessary to deliver the service in the most proficient manner possible. In case you want us to use your own cleaning equipment, please make sure to let us know in advance.