Every renovation or refurbishment produces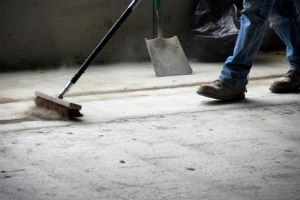 loads of dirt and dust in the house. Once this happens, it's difficult to handle the problem by yourself. After construction cleaning is a pain in the neck for every homeowner. Thank God, there are cleaning agencies like ours that can help you find the best solution. Welcome to our London-based company! Read more information about us below.
For years we have been occupied with after construction cleaning. Whenever regular cleaning provided by homeowners themselves is not efficient to remove all the dirt that builders left behind, our cleaning service is ordered.
We have an extensive experience in this business and offer one of the best cleaning services in the city. Our prices vary according to several factors such as size of job and size of building. If you have any special requirements, we will do out best to fulfil them.
Bedrooms
Floors vacuumed and mopped
Surfaces dusted
Windows cleaned from inside
Mirrors cleaned
Trash removed
Clutter gathered
Light switches, door frames, doors, doorknobs cleaned
Bathrooms
Surfaces dusted
Windows and window sills cleaned
Light switches, door frames, doors, doorknobs cleaned
Shelves wiped and dusted
Cabinets cleaned
Mirrors cleaned
Shower walls, bathtub, sink cleaned and sanitised
Kitchen
Countertops dusted
Shelves wiped and dusted
Window sills cleaned
Windows cleaned from inside
Marks on walls cleaned
Light switches, door frames, doors, doorknobs cleaned
Trash removed
Baseboard wiped
Floor vacuumed and mopped
Living areas
Mirrors cleaned
Surfaces dusted
Windows cleaned from inside
Trash removed
Light switches, door frames, doors, doorknobs cleaned
Baseboards cleaned
Marks on walls cleaned
Closets cleaned
Floor vacuumed and mopped
Now that you know what we offer, feel free to contact us and book a service. You can customise yours to fit your wishes and criteria by adding or removing tasks from the list. But you'll have to speak to one of our telephone assistants to discuss the matter. We offer a 24/7 telephone service, so feel free to contact us any time during the day and night. We will be glad to help you clean your property in no time. Get in touch with us.
FAQ
Of course. You do not need to be at the place when our technicians come to the property to have it cleaned. You can be at work, you can go for a walk or you can catch up with friends, rest assured that your home is in safe hands with our cleaners. For your convenience, our cleaners hold keys for our clients' homes. Our company is fully insured which means that you can feel absolutely confident that the keys are held responsibly. Take comfort in knowing that our customers are reliable, background-checked, insured professionals.
Usually, the cleaning session takes place where the construction has been done. Our after builders cleaning can include deep cleaning of kitchens, living rooms, bathrooms, bedrooms or any other area in the property. It is extremely detailed and thorough cleaning, specially designed to cover every inch of a premise. Since our customers' satisfaction is our major goal, our after builders cleaning is flexible and customisable. We are ready to tailor a cleaning session to your own liking. Share with us your requirements and we will take them into account.
No, for our after builders cleaning service we do not ask you to provide all the cleaning products and supplies needed, unless you want us to use your own. However, you need to know that our cleaning equipment is absolutely safe, nature responsible, green and do not contain harsh chemicals or toxins. Your health is important to us just like the look of your property. You can be sure that our cleaning equipment will not cause any damages to the surfaces of your home.