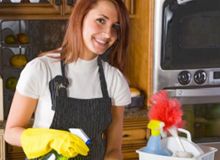 Fast Home Cleaning London is professional cleaning agency that performs top quality deep cleaning services for your home and office. Get a quote now. Deep cleaning services are often preferred by people who don't have enough time to pay the needed attention to their places. In that way they not only safe time but make sure that everything is being taken care of by professional cleaners who have lots of experience and who have accomplished thousands of different projects during all those years.
We want to make you a special offer and let you know that we are the type of agency that will never let his customers down simply because we have been building our reputation during all those years and we can't risk it in such a silly way.
There are also many people who haven't heard of deep cleaning – if you are one of them, then let us tell you a few words regarding this type of cleaning – basically it means that we will send our mobile teams at your place and take care of everything – not a single spot will be missed. Actually this type of cleaning is ideal if you are about to sell your house because the new people will want to see it in a really nice way.
However, since the occasion might be different, we would like to tell you that our cleaning packages are different and what is even more – we have a special service that will let you tailor your deep cleaning package depending on your needs and budget. However, in order to make things easier for you, we would like to let you know that there is a basic package that we have and it includes the following procedures:
Paying special attention to kitchen and bathroom because those are the dirtiest rooms in every house
Using only top-shelf products
24 hour guarantee
Polishing and cleaning of household appliances
Vacuuming the carpets
Cleaning both inside and outside the windows
As we mentioned – several other services can be included/excluded depending on your needs so it should not be a problem to give us a call and tailor the deep cleaning package you have chosen in the way you want.